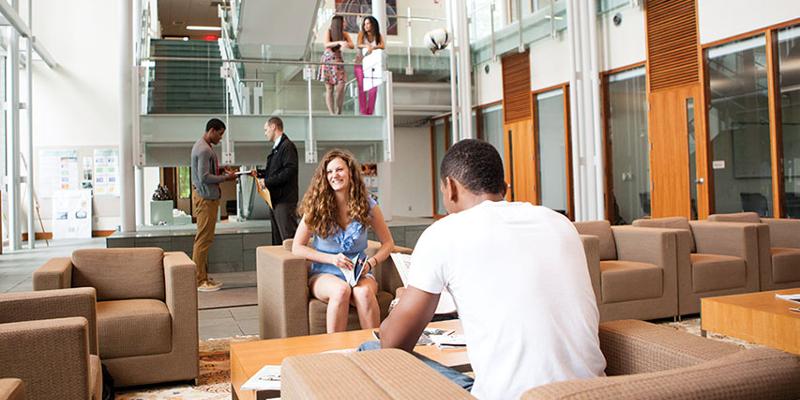 Quick Facts
The College
Founded in 1877, Bryn Athyn College is a small, private, coeducational, Christian, liberal arts College affiliated with the New Church.
Our Mission
The ultimate purpose of Bryn Athyn College is to enhance students' civil, moral, and spiritual lives, and to contribute to human spiritual welfare.
Location
The spacious and green 130-acre campus is located in suburban Bryn Athyn, Pennsylvania, just 14 miles north of center city Philadelphia. Visit our campus!
Enrollment
330 students
Student-faculty Ratio
6:1
Majors and Tracks
Anthropology (HSoc), Biology, Building Arts, Business, Dance (ID), Education, English, Fine Arts (ID), History (HSoc), Human Society, Mathematics (ID), Nursing, Philosophy (ID), Political Science (HSoc), Pre-Law, Pre-Med, Psychology, and Religion.
Minors
Biology, Business, Computer Science, Dance, Education, English, Mathematics, Philosophy, Psychology, Public History, and Religion.
Associate in Arts
Art, Biology, English, English Literature, History, Language, Mathematical Sciences, Philosophy, Psychology, Religion, Social Sciences.
Pre-Professional: Building Arts, Pre-Nursing
Graduate Programs
On-site Programs – Master of Divinity, Master of Arts in Religious Studies
Articulation Agreements – MA in Counseling Psychology at Rosemont College, MA in Education at Rosemont College
Campus Life
54% of students live on campus. In addition to men's and women's residence halls, upperclassmen can choose to live in one of our apartment-style residence cottages or suites.
Average Class Size
14 students
Student Profile
Typical Bryn Athyn students are bright, ethical, and engaged in campus life. The average incoming freshman has an SAT score (for critical reading and mathematics) of 1060, an ACT score of 21, and a 3.5 GPA.
Religious Affiliation
Bryn Athyn College is affiliated with the New Church (also known as the General Church of the New Jerusalem).
Spirituality
At Bryn Athyn College, we encourage all of our students to make conscious choices and live lives of integrity, honor, and courage. In addition to weekly chapel attendance, students will find spiritual discussion to be a consistent element in their coursework.
Accreditation
Bryn Athyn College of the New Church is accredited by the Middle States Commission on Higher Education (www.msche.org), 3624 Market Street, Philadelphia, PA 19104, (267-284-5000). The Middle States Commission on Higher Education is an institutional accrediting agency recognized by the U.S. Secretary of Education and the Council for Higher Education Accreditation.
Facilities
In addition to academic and student life buildings, our campus includes the Swedenborg Library, Glencairn Museum (our campus museum), Cairnwood Estate (a historic home), Mitchell Performing Arts Center, and the Doering Center, our new state-of-the-art facility for science and research.
Athletics
Bryn Athyn College sponsors 12 NCAA Division III sports:
Women's – Basketball, Cross Country, Field Hockey, Lacrosse, Soccer, Tennis, and Volleyball.
Men's – Basketball, Cross Country, Ice Hockey, Lacrosse, and Soccer.
Activities and Organizations
Student Government, Social Committee, International Student Organization, Multicultural Student Organization, plays and musicals, community service organization, and more.
Tuition
Tuition and fees for the 2020-2021 academic year are $25,449. Summary of tuition and fees.
Financial Aid
95% of students who applied for financial aid received some assistance (federal, state, institutional, and/or merit).