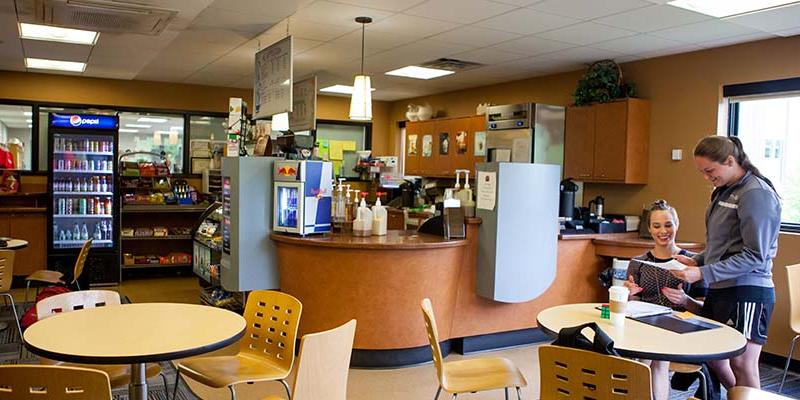 College Grounds Café
College Grounds Café is located conveniently in the Swedenborg Library, right next to the BAC Bookstore. College Grounds serves the full line-up of Starbucks coffee and drinks, including Tazo teas and smoothies, as well as highly popular breakfast sandwiches, pastries, bagels, candy, and student essentials like Ramen and Red Bull. The comfy booths, iPod docks, and HD Plasma TV help make the Café the perfect spot for studying, socializing, and getting that much-needed caffeine fix before your first class. The lively spiritual discussion group Gnashing of Teeth meets weekly at the Café, and it's also a popular spot for meetings with faculty and friends. It's evident that College Grounds is buzzing just a little bit more than any other spot on campus.
REGULAR HOURS
Monday, Tuesday, Thursday
7:30 am – 6 pm
Wednesday
7:30 am – 9 pm
Friday
7:30 am – 1 pm
Saturday
CLOSED
Sunday
CLOSED
During breaks, hours are subject to change based on the
Swedenborg Library's schedule
.
Get Involved
Are you always hanging around College Grounds? Why not get paid for it in cash or credits? Student workers and baristas are always needed at the Café. If interested, apply to Café Manager Lottie Gurney at the beginning of the academic year. Internships are also available upon request.