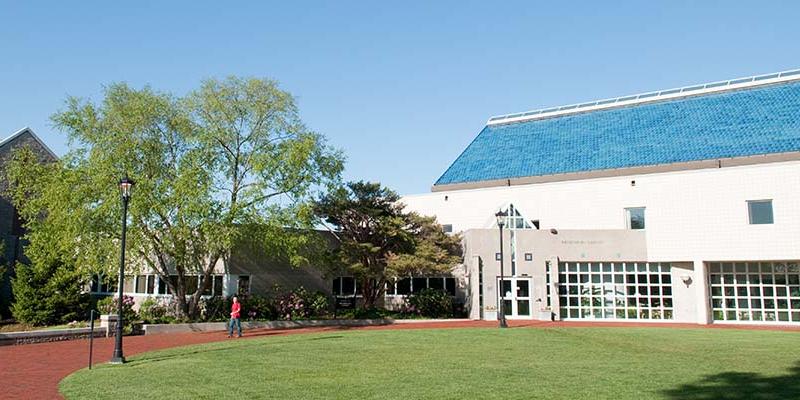 Swedenborg Library
Located in the heart of the Bryn Athyn College campus, the Swedenborg Library is home to over 109,000 books, periodicals, and special collection items. The Library consists of 35,000 square feet of floor space on three floors that houses our collections, and provides space for individual and group study, in addition to several meeting or classroom spaces. A number of public computers, and the College Grounds Cafe are also located on the main floor. Our dedicated and knowledgeable staff serves the needs of the College and other organizations in Bryn Athyn, as well as members of the Bryn Athyn community. The Library is also a foundation of New Church research. It houses the world's largest collection of Swedenborg's works, among other rare collections.
To maintain the health and safety of our campus community, the Swedenborg Library is open to Bryn Athyn College students, faculty, and staff. 'Non-campus' visits must be by prior appointment only. However,we are still here for you! Please contact us through our "Let's Talk" chat service, email, or by phone. For more information and regular updates visit the Bryn Athyn College COVID-19 Update page.
College Grounds Cafe is CLOSED.
Regular Hours
Spring 2021

Monday, Tuesday, Thursday
7:30 am – 6 pm
Wednesday
7:30 am – 9 pm
Friday
7:30 am – 1 pm
Saturday and Sunday
CLOSED

Upcoming holiday closures for 2021: Monday May 31, Friday June 18, Monday July 5
Summer Hours: Virtual services through email, chat, and phone during regular hours. In-person visits by appointmen
Contact