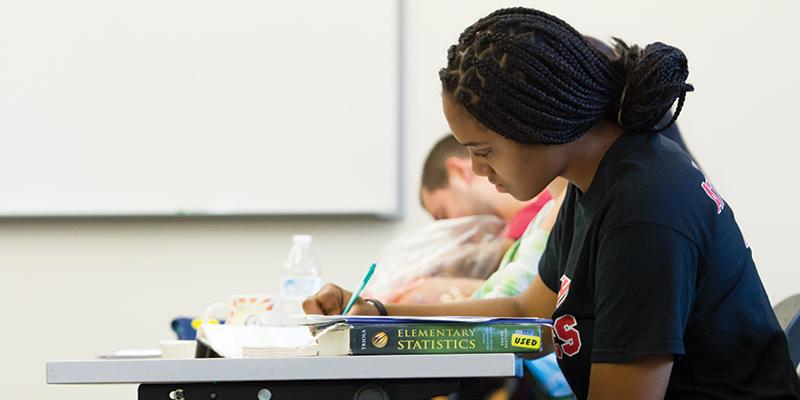 Academics at Bryn Athyn College
A Bryn Athyn College education isn't just about you. It's about your potential to make an impact. Here, you'll be encouraged to define your goals, discover your passions, and live your life with conviction. We offer a liberal arts education founded on strong spiritual principals. Our Core Program focuses on critical thinking, quantitative reasoning, information literacy, public presentation, and experiential education. Our curriculum pairs challenging academics with spiritual inquiry, giving you creative space to explore your spiritual convictions and examine the deeper significance of your coursework. A Bryn Athyn College education will challenge you to think independently, write clearly, develop your ideas, and decide what you stand for. Your education will help you succeed in graduate school, in your career, and in life.
It's About Pursuing Academic Excellence
At Bryn Athyn College, we have carefully selected our majors and minors. Both bachelor of arts and bachelor of science programs are available.
Majors and Tracks:
Honors Interdisciplinary**
Undecided
* The Human Society Major uses a multidisciplinary approach with anthropology, history, and political science included.
** The Interdisciplinary Major allow students to complement their study with another chosen field.
Minors: Art History, Biology, Business, Communications, Computer Science, Dance, Data Science, Education, English, Finance, History, Marketing, Mathematics, Medieval Studies, Philosophy, Psychology, and Religion.
It's About Finding Purpose in Your Studies
Our religious perspective is based on New Church theology, a form of Christianity that teaches, "All religion is of life, and the life of religion is to do good." In keeping with this philosophy, our Core Program emphasizes freedom, reason, and action. Our academics are grounded in a spiritual worldview and informed and challenged by liberal arts disciplines, with the goal of helping students develop the ability and desire to be useful. At Bryn Athyn College, it's not just about you. It's about how you live your beliefs and what you do to make a difference.