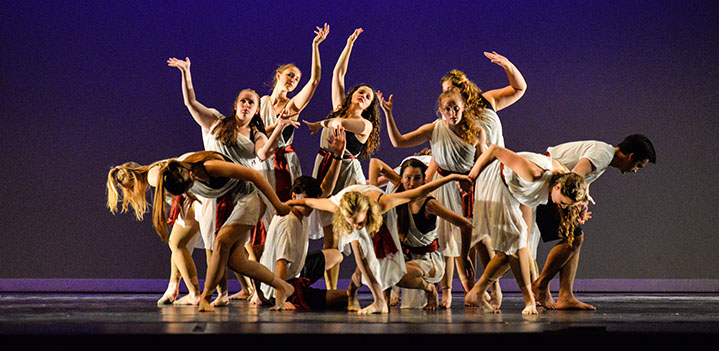 The Dance (ID) Major
Dance is the art of movement, expressing yourself in rhythm and form. The Dance program at Bryn Athyn can be taken either as a major, minor, or as individual classes. Courses ranging from choreography, to history, to performance ensembles are open to all students.
The Dance program caters both to seasoned dancers and brand new hobbyists. Students are encouraged to understand the role Dance can play throughout their lives, whether pursuing professional careers and graduate study, or working in entirely different fields while keeping their passion alive. Graduates have landed in studios, labs, boardrooms, and beyond due to the discipline, collaboration, and confidence our program imparts.
Dance at Bryn Athyn is part of The Interdisciplinary Major (ID), a unique opportunity for students to combine studies of two liberal arts areas and to develop the interrelations between these different fields of knowledge.
This program can be combined with any of the following areas:
Biology
Business
Fine Arts
Mathematics
Physical Science
Psychology
Religion
Major-specific skills that will prepare you for grad school:
Choreography

Rhythm

Timing

Emphasis
Transferable skills that will prepare you for a variety of careers:
Self-expression

Discipline

Cooperation

Problem solving
Dance at Bryn Athyn
The ideal student for this program seeks out the joy of moving their body. If you are eager to develop your own unique style and explore the ways that Dance can enhance your life, this program is for you. Dance is an integral part of the community at Bryn Athyn, bringing together the entire campus for regular performances.
We encourage students of all skill levels to take our Dance classes, providing for a richer learning experience. We offer courses in a variety of styles of dance, such as Modern, Contemporary jazz, Theater jazz, Hip hop, Ballet, and Tap. Whether you take one class per term or a whole course load, our faculty will help you discover a love for dance, appreciation of art, and an expression of spirit.
The Dance program offers many opportunities for hands-on learning. In addition to campus-wide performances, students majoring or minoring in Dance must complete an internship in teaching, administration, producing, or choreographing. Graduates emerge with the credentials to teach dance at a studio, or pursue advanced study.
Students who study Dance as part of the Interdisciplinary Major develop their own individualized research project in the senior year. From exploring the interplay between Dance and Swedenbourgian religion, to interrogating the psychology of movement, some of the most unique research projects at Bryn Athyn have emerged from Interdisciplinary Majors in Dance.
Trajectories
Our Dance students excel at graduate schools and also have gone on to work in a variety of fields, such as performance, education, business, ministry, and health.
Program Forms and Resource Links