Accreditation
About MSCHE
"Bryn Athyn College is accredited by the Middle States Commission on Higher Education (MSCHE). MSCHE is recognized as an accrediting organization by the United States Department of Education."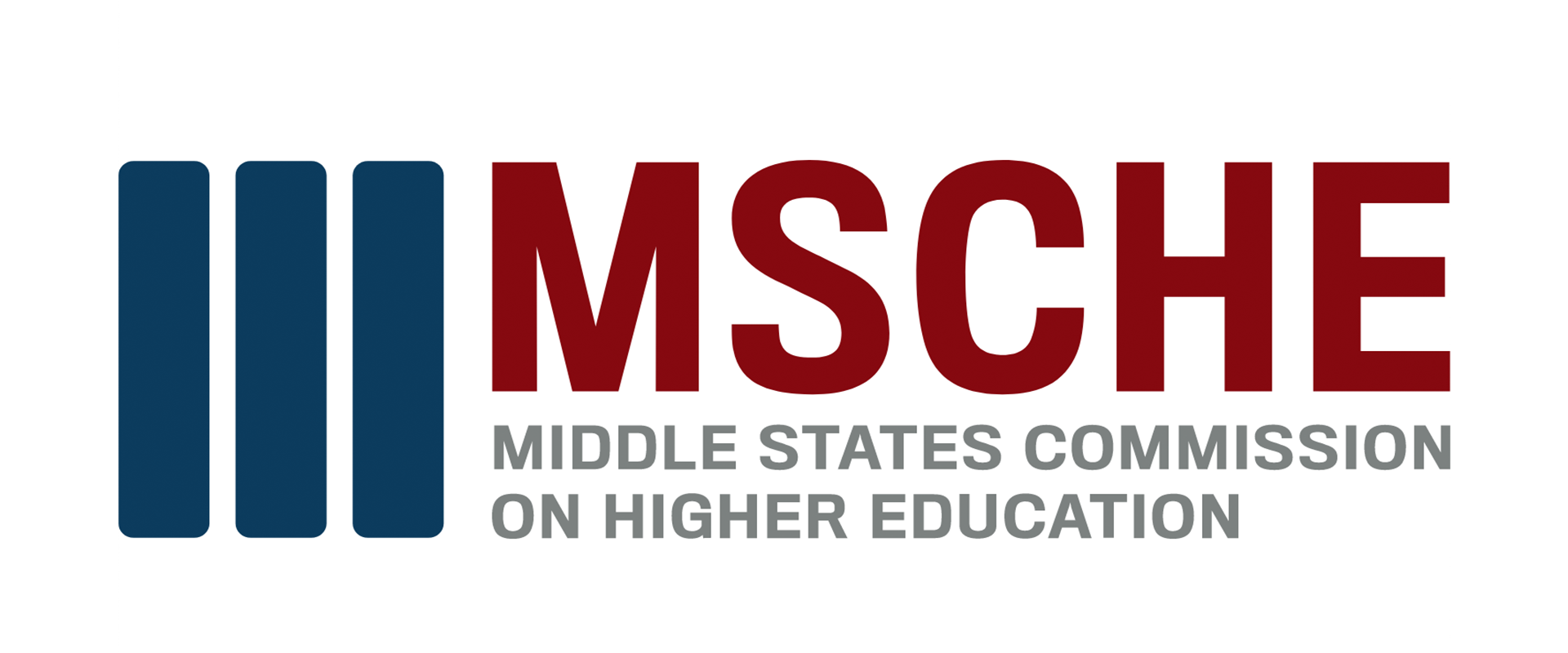 In order to maintain its accreditation status, Bryn Athyn College must sustain compliance with the MSCHE Standards and Requirements of Affiliation and MSCHE Policies and Procedures.
View more information about MSCHE and the MSCHE Mission.
Submit a Third-Party Comment or Complaint
If you wish to submit a third-party comment or complaint, you can do so by clicking one of the links below. Third-party comments are accepted during a self-study.
Accreditation Review Cycle for Bryn Athyn College
Accreditation Granted: 1952
Phase: Accredited
Status: Accreditation Reaffirmed
Last Reaffirmation: 2023
Next Self-Study Evaluation: 2029-2030
Bryn Athyn College is an accredited institution and a member of the Middle States Commission on Higher Education. Details about the accreditation of Bryn Athyn College including, accreditation actions, delivery methods, and credential levels can be found at MSCHE Accreditation for Bryn Athyn College.
Annual Institutional Update (AIU): (Annually May-June)
The AIU requires BAC to provide key data indicators on an annual basis, including but not limited to enrollment, financial information, and measures of student achievement. The data submitted from the AIU are aggregated into trends for use in other monitoring and review processes.
Self-Study: (2029-2030)
Every 8 years Bryn Athyn College is required to complete a self-study. This process begins two years prior to the formal submittal of the self-study report. The institution chooses two people to lead the institution through the Self-Study process. The Self-Study co-chairs and the Accreditation Liaison Officer (ALO) attend the Self-Study Institute where MSCHE staff walk through the complete process.
The Self-Study includes a rigorous self-examination of all aspects of the college to ensure compliance with the MSCHE Standards and Requirements of Affiliation. This is also a time for the college to reflect on how it achieves its mission, take note of what it does well and identify opportunities for improvement.
The co-chairs assemble working groups that are representative and inclusive of all areas on campus to assess and collect evidence of compliance. It is important that the perspectives of all constituencies are considered. For that reason, the working groups are comprised of faculty, staff, administration, students, alumni and trustees.
The findings of the working groups culminate in a 100-page written report that is presented to a group of 6-10 peer evaluators carefully selected by MSCHE staff to help the college focus on self-identified institutional priorities. The peer evaluators read the report and review the evidence compiled by the college thoroughly. This is followed by a three day on campus visit in which the visiting team will interview a wide range of constituencies to determine compliance with the Standards and the Requirements of Affiliation and MSCHE Policies.
At the end of the visit the peer evaluators will recommend an accreditation action. The Commission then reviews the recommendation of the peer evaluators and issues formal action leading to reaffirmation of accreditation for another 8 years, a warning with follow-up actions, or requiring the college to show cause as to how they can remediate serious non-compliance.
Bryn Athyn's institutional priorities represented areas of significant educational and operational focus and were topics of active conversation among various stakeholders on campus at that time. The initial draft was first articulated by the Self-Study Co-chairs and the Accreditation Liaison Officer after attending the MSCHE Self-Study Institute. These priorities were then modified and honed through a consultative process including all College constituencies.
Bryn Athyn's institutional priorities were as follows:
Priority 1: New Church Higher Education
How do we meaningfully draw on our New Church educational mission to educate and better prepare the members of our diverse student body for their futures, and how do we grow as an intellectual center for Swedenborgian research and thought?
Priority 2: Student Success
What strengths do students develop through their education at Bryn Athyn College?
Priority 3: Finding a Sustainable Model
What financial and enrollment models position us for sustainability?
Priority 4: Governance
How can we improve our governance—both its model and its execution—to help our New Church educational mission flourish?
Priorities 1 and 2 focused on education and stem directly from the mission. They have driven curricular development in conjunction with Priority 3. Priorities 3 and 4 focus on operations and represent key areas of both challenge and opportunity.
Each priority was articulated as a question in part to represent the nature of the campus dialogue related to each priority and in part to guide and connect the lines of inquiry in our Self-Study.
Bryn Athyn College sought four key outcomes from engaging in the Self-Study process:
To maintain accreditation by meeting the Standards for Accreditation and Requirements of Affiliation. Reaccreditation allows us to continue to offer our students a strong and ever-improving education, recognized and endorsed by our higher education peers.
To continue to assess and analyze areas that need improvement and commit to strategies to strengthen those areas. We aim to enhance the work of our regular assessment processes by using the Self-Study to evaluate institutional effectiveness more comprehensively, particularly with regard to the institutional priorities identified above.
Align and strengthen the vision among stakeholders of what mission attainment looks like. Because the Self-Study process is rooted in institutional mission, and because determining how Bryn Athyn can best meet its mission is a current conversation on campus and among alumni, we will use the process to clarify and highlight what is effective with regard to mission-focused education, and to explore and address what is not.
Engage the College community in an inclusive and transparent self-appraisal process that actively and deliberately seeks to involve members from all areas of our community. For any Self-Study to be meaningful, the process needs to effectively engage all members of the campus community. In addition, improving communication is a priority on campus at the present time, in response to a recent employee engagement survey (May 2019) that highlighted a need for it.