Accreditation
About MSCHE
"Bryn Athyn College is accredited by the Middle States Commission on Higher Education (MSCHE). MSCHE is recognized as an accrediting organization by the United States Department of Education."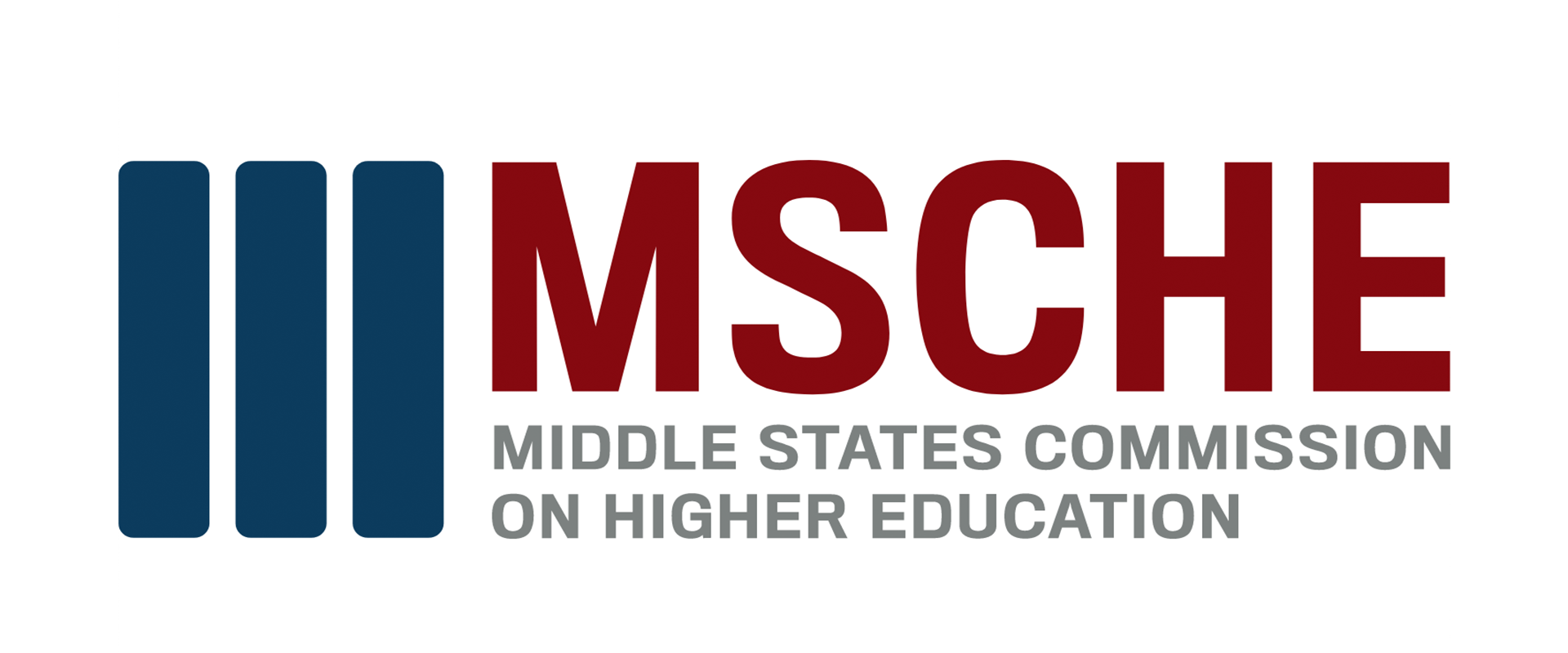 In order to maintain its accreditation status, Bryn Athyn College must sustain compliance with the MSCHE Standards and Requirements of Affiliation and MSCHE Policies and Procedures.
View more information about MSCHE and the MSCHE Mission.
Submit a Third-Party Comment or Complaint
If you wish to submit a third-party comment or complaint, you can do so by clicking one of the links below. Third-party comments are accepted during a self-study (more information can be viewed on MSCHE website regarding third-party comments).
Accreditation Review Cycle for Bryn Athyn College
Accreditation Granted: 1952
Phase: Accredited
Status: Non-Compliance Warning
Last Reaffirmation: 2013
Next Self-Study Evaluation: 2021-2022
Bryn Athyn College is an accredited institution and a member of the Middle States Commission on Higher Education. Bryn Athyn College's accreditation status is currently Non-Compliance Warning. The Commission's most recent action on the institution's accreditation in June 2022 was to warn the institution.
Details about the accreditation of Bryn Athyn College including, accreditation actions, delivery methods, and credential levels can be found at MSCHE Accreditation for Bryn Athyn College.
Annual Institutional Update (AIU): (August 29 - September 28, 2022)
The AIU requires BAC to provide key data indicators on an annual basis, including but not limited to enrollment, financial information, and measures of student achievement. The data submitted from the AIU are aggregated into trends for use in other monitoring and review processes.
Mid-Point Peer Review (MPPR): (2026)
The Mid-Point Peer Review, or MPPR, is a peer review of the accumulated financial data, student achievement data and responses to Commission recommendations (if requested in a prior Commission action) submitted by institutions through a series of Annual Institutional Updates. The MPPR occurs 4 years after the completion of a Self-Study.
Self-Study: (April 2022, completed)
Every 8 years Bryn Athyn College is required to complete a self-study. This process begins two years prior to the formal submittal of the self-study report. The institution chooses two people to lead the institution through the Self-Study process. The Self-Study co-chairs and the Accreditation Liaison Officer (ALO) attend the Self-Study Institute where MSCHE staff walk through the complete process.
The Self-Study includes a rigorous self-examination of all aspects of the college to ensure compliance with the MSCHE Standards and Requirements of Affiliation. This is also a time for the college to reflect on how it achieves its mission, take note of what it does well and identify opportunities for improvement.
The co-chairs assemble working groups that are representative and inclusive of all areas on campus to assess and collect evidence of compliance. It is important that the perspectives of all constituencies are considered. For that reason, the working groups are comprised of faculty, staff, administration, students, alumni and trustees.
The findings of the working groups culminate in a 100-page written report that is presented to a group of 6-10 peer evaluators carefully selected by MSCHE staff to help the college focus on self-identified institutional priorities. The peer evaluators read the report and review the evidence compiled by the college thoroughly. This is followed by a three day on campus visit in which the visiting team will interview a wide range of constituencies to determine compliance with the Standards and the Requirements of Affiliation and MSCHE Policies.
At the end of the visit the peer evaluators will recommend an accreditation action. The Commission then reviews the recommendation of the peer evaluators and issues formal action leading to reaffirmation of accreditation for another 8 years, a warning with follow-up actions, or requiring the college to show cause as to how they can remediate serious non-compliance.
Phase 1:
Chairs attend Self-Study Institute
October
2019
✓
Self-Study Steering Committee and Working Group chairs identified and charged.
November -December
2019
✓
Begin drafting the Self-Study Design
December
2019
✓
Working Groups start to analyze data and develop lines of inquiry
April – May
2020
✓
Self-Study Design accepted by MSCHE
August
2020
✓
Phase 2:
Working Groups meet bi-monthly, gather and analyze data and submit monthly progress reports to Steering Committee
August - December
2020
✓
Steering Committee meets monthly to review Working Group progress reports
August - December
2020
✓
MSCHE Liaison Self-Study Prep Visit (virtual)
September
2020
✓
Phase 3:
Team Chair and visit dates chosen
January - March
2021
✓
Begin writing draft of Self-Study Report
January -February
2021
✓
First draft of Self-Study Report submitted to the campus community for feedback
May
2021
✓
Self-Study revisions incorporated into a second draft; Evidence Inventory compiled
June - August
2021
✓
Second draft of Self-Study Report submitted to the campus community for feedback
September
2021
✓
Draft shared with Team chair in preparation for campus visit.
Prior to October 8
2021
✓
Team Chair's preliminary visit to campus.
October 25-26
2021
✓
Final revisions and review of evidence inventory
November-December
2021
✓
Self-Study and Evidence submitted to MSCHE.
Prior to February 18
2022
✓
Evaluation team visit
April 3-6
2022
✓
Team Report Issued and Institutional Response
April
2022
✓
Commission meets to determine action. Visits after April 15 are acted on by the Commission at the November meeting.
June
2022
✓
Bryn Athyn's institutional priorities represent areas of significant educational and operational focus and are topics of active conversation among various stakeholders on campus. The initial draft was first articulated by the Self-Study Co-chairs and the Accreditation Liaison Officer after they attended the MSCHE Self-Study Institute. These priorities have been modified and honed through a consultative process. Feedback has been sought from the following individuals and groups:
President

President's Cabinet

Self-Study Steering Committee

Self-Study Working Groups

LIONS Committee (a retention-focused committee with cross-campus representation)

Faculty Council

College Committee of the Board of Trustees

End-of-year meeting of all employees
Bryn Athyn's institutional priorities are as follows:
Priority 1: New Church Higher Education
How do we meaningfully draw on our New Church educational mission to educate and better prepare the members of our diverse student body for their futures, and how do we grow as an intellectual center for Swedenborgian research and thought?
Priority 2: Student Success
What strengths do students develop through their education at Bryn Athyn College?
Priority 3: Finding a Sustainable Model
What financial and enrollment models position us for sustainability?
Priority 4: Governance
How can we improve our governance—both its model and its execution—to help our New Church educational mission flourish?
Priorities 1 and 2 focus on education and stem directly from the mission. They have driven curricular development in conjunction with Priority 3. Priorities 3 and 4 focus on operations and represent key areas of both challenge and opportunity.
Each priority has been articulated as a question in part to represent the nature of the campus dialogue related to each priority and in part to guide and connect the lines of inquiry in our Self-Study.
Bryn Athyn College seeks four key outcomes from engaging in the Self-Study process:
To maintain accreditation by meeting the Standards for Accreditation and Requirements of Affiliation. Reaccreditation allows us to continue to offer our students a strong and ever-improving education, recognized and endorsed by our higher education peers.
To continue to assess and analyze areas that need improvement and commit to strategies to strengthen those areas. We aim to enhance the work of our regular assessment processes by using the Self-Study to evaluate institutional effectiveness more comprehensively, particularly with regard to the institutional priorities identified above.
Align and strengthen the vision among stakeholders of what mission attainment looks like. Because the Self-Study process is rooted in institutional mission, and because determining how Bryn Athyn can best meet its mission is a current conversation on campus and among alumni, we will use the process to clarify and highlight what is effective with regard to mission-focused education, and to explore and address what is not.
Engage the College community in an inclusive and transparent self-appraisal process that actively and deliberately seeks to involve members from all areas of our community. For any Self-Study to be meaningful, the process needs to effectively engage all members of the campus community. In addition, improving communication is a priority on campus at the present time, in response to a recent employee engagement survey (May 2019) that highlighted a need for it.
Self-Study Steering Committee
Name (Working Group)
Title
Daniel Allen (Self-Study Co-chair; Working Group 6)
Chief Financial Officer
Wendy Closterman (Self-Study Co-chair; Working Group 5)
Dean of Academics and Faculty, Chief Academic Officer; Professor of History and Greek
Kelly Ballard (Working Group 3)
Head of Master of Special Education Program; Assistant Professor of Education; Member of Early Alert and Academic Advising Committees 
Caira Bongers (Working Group 6)
Assistant Professor of Mathematics
Robin Cooper (Working Group 4)
Associate Dean of Academic Affairs; Assistant Professor of English and Writing 
Jennifer DeLuca (Working Group 2)
Head of Academic Advising 
Andrew Dibb (Working Group 5)
Dean of Theological School; Associate Professor of Religion
Kurt Frey (Working Group 3)
Assistant Professor of Psychology
Thane Glenn (Working Group 1)
Director of the Institute of Swedenborg Studies; Head of the Master of Religious Studies; Associate Professor of English, Religion, and Writing 
Melodie Greer (Working Group 8)
Senior Data Administrator 
Lelia Howard (Working Group 8)
Chief Information Officer; Accreditation Liaison Officer 
Kristin King (Member at Large)
Chair of the Language and Literature Department; Professor of English and Writing
William Larrousse (Working Group 2)
Vice President of Enrollment Management
Suzanne Nelson (Working Group 4)
Dean of Students; Assistant Professor of Nutrition
Angela Rose (Working Group 1)
Chair of the Education Department / Assistant Professor of Education 
Renée Rosenfeld (Working Group 7)
Director of Human Resources 
Dan Synnestvedt (Working Group 7)
Faculty Council Chair; Associate Professor of Philosophy
TBD
Student Government Association Representative
Working Group 1 – (Standard 1: Mission and Goals)
Name
Title
Thane Glenn (Co-chair)
Director of the Institute of Swedenborg Studies; Head of the Master of Religious Studies; Associate Professor of English, Religion, and Writing 
Angela Rose (Co-chair)
Chair of the Education Department / Assistant Professor of Education 
Leah Fisher
Associate Director of Campus Visits
Bill O'Neill
Associate Director of Athletics; Head Coach
Andi Sibley
Reference and User Services Librarian
Aram Yardumian
Head of the Human Society Major; Assistant Professor of Anthropology
Working Group 2 – (Standard II: Ethics and Integrity)
Name
Title
Jennifer DeLuca (Co-chair)
Head of Academic Advising 
William Larrousse (Co-Chair)
Vice President of Enrollment Management
Jonathan Carr
Coordinator of Student Activities and Multicultural Student Programming
Kimberly Clark
Director of Financial Aid
Marcy Latta
Associate Professor of Philosophy and Writing
Bill O'Neill
Associate Director of Athletics; Head Coach
Working Group 3 – (Standard III: Design and Delivery of the Student Learning Experience)
Name
Title
Kelly Ballard (Co-chair)
Head of Master of Special Education Program; Assistant Professor of Education; Member of Early Alert and Academic Advising Committees 
Kurt Frey (Co-chair)
Assistant Professor of Psychology
Fredrik Bryntesson
Chair of the Science Department; Associate Professor of Biology
Wendy Closterman
Dean of Academics and Faculty, Chief Academic Officer; Professor of History and Greek
Jonathan Kline
Chair of the Arts Department; Assistant Professor of Art History,
Sean Lawing
Chair of the History and Social Sciences Department; Assistant Professor of History and German
Casey Schauder
Registrar; Designated School Officer
Neil Simonetti
Chair of the Business, Computer Science, and Mathematics Department; Director of the Interdisciplinary Program; Professor of Business, Computer Science, and Mathematics
Sarah Wong
Assistant Professor in Education; Director of Field Placement and Certification and Compliance Officer; Principal Designated School Officer
Working Group 4 – (Standard IV: Support of the Student Experience)
Name
Title
Robin Cooper (Co-chair)
Associate Dean of Academic Affairs; Assistant Professor of English and Writing 
Suzanne Nelson (Co-chair)
Dean of Students; Assistant Professor of Nutrition
Michael Austin
Director of Residence Life
Jonathan Carr
Coordinator of Student Activities and Multicultural Student Programming
Jack Crawford
Coach
Jennifer DeLuca
Head of Academic Advising 
Nicole D'Amico
Associate Director of Admissions
Casey Schauder
Registrar
Kimberly Clark
Director of Financial Aid
Madeline Berger
Bursar
Grant Schnarr
Chaplain; Associate Professor of Religion
Scott Jones
Director of Health and Wellness
Working Group 5 – (Standard V: Educational Effectiveness Assessment)
Name
Title
Wendy Closterman (Co-chair)
Dean of Academics and Faculty, Chief Academic Officer; Professor of History and Greek
Andrew Dibb (Co-chair)
Dean of Theological School; Associate Professor of Religion
Fredrik Bryntesson
Chair of the Science Department; Associate Professor of Biology
Scott Frazier
Chair of the Religion, Sacred Language, and Philosophy Department; Associate Professor of Religion
Nina Phillips
Assistant Professor of Education
Kiri Rogers
Chair of the Psychology Department: Assistant Professor of Psychology
Working Group 6 – (Standard VI: Planning, Resources, and Institutional Improvement)
Name
Title
Daniel Allen (Co-chair)
Chief Financial Officer 
Caira Bongers (Co-chair)
Assistant Professor of Mathematics
Michael Austin
Director of Residence Life
Richard Daum
Director of Network Services
Felipe Ranjo
Admissions Counselor
Carol Traveny
Swedenborg Library Director
Working Group 7 – (Standard VII: Governance, Leadership, and Administration)
Name
Title
Renee Rosenfeld (Co-chair)
Director of Human Resources 
Dan Synnestvedt (Co-chair)
Faculty Council Chair; Associate Professor of Philosophy
Martha Gyllenhaal
Faculty Council Immediate Past Chair; Associate Professor of Art and Art History
Steve Kitchen
Senior Network Operations Technician
Philip Zuber
Secretary and General Counsel for the Academy of the New Church
Representative to be named
Student Government Association Member
Working Group (Compliance and Evidence Inventory)
Name
Title
Melodie Greer (Co-chair)
Senior Data Administrator
Lelia Howard (Co-chair)
Chief Information Officer; Accreditation Liaison Officer
Carol Traveny
Swedenborg Library Director