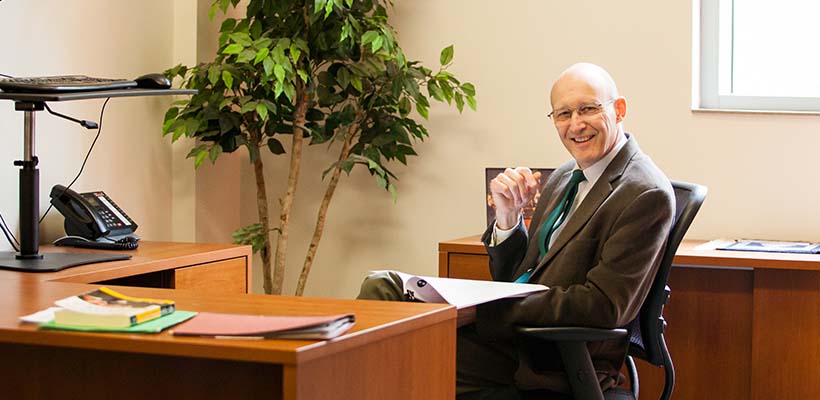 Employment Opportunities
Bryn Athyn College is an Equal Opportunity Employer. Minority candidates are encouraged to apply. Our goal is to attract and retain talented and dedicated employees by providing a friendly and collaborative work environment that offers meaningful career opportunities, competitive compensation, an extensive benefits package, and various professional and personal development opportunities.
Administration Employment Opportunities
The Chief Financial Officer (CFO) will report to the College President and will be responsible for coordinating, developing, implementing, and monitoring the financial components of strategic planning at Bryn Athyn College as well as developing and monitoring the overall College budget. The CFO will work with the Academy of the New Church (ANC) Treasurer and the ANC Financial Office to ensure appropriate oversight of other financial functions of the College, including controller functions, auditing, cash and investments management, and accounts payable. The CFO will work in a collegial partnership with the President's Cabinet and the ANC Treasurer in pursuit of collegiate academic quality. The CFO will actively and creatively seeking funding and administrative solutions in support of the College's mission.
The CFO serves as a member of the President's Cabinet and on other committees and councils as appointed by the President.
Specific Responsibilities & Essential Functions:
Develops, submits, and monitors annual operating budget for the College

With reference to the College's strategic plan, assists departments in developing their budget needs and in understanding available resources
Integrates College's budget with ANC-wide budget
Develops monthly reports that promote effective budget management and decision-making by individual budget managers; holds departments accountable for managing within their budgets
Ensures accuracy, availability and efficient utilization of the financial systems available to the College or advocate new system

Facilitates connections between institutional planning and budgeting

Assists departments in compiling the financial elements of the College's plan and in understanding available resources
Assists departments in developing benchmarks and financial success measures
With the Treasurer, develops the financial forecasts for the College's strategic plan
With the President and the Chief Academic Officer, is responsible for the College's institutional assessment dashboard, IPEDs compliance, and participation in designated external benchmarking surveys
Utilizes the institution's financial planning model to monitor and promote long-term sustainability for the College

Oversees the development, coordination, and implementation of financial policies, reports, and controls for the College
Prepares financial documents and planning update reports for stakeholders including the President, the Board of Trustees, the College Board Committee, the Faculty Council, the campus community, and other groups as appropriate.
Monitors management of all College funds with the appropriate budget manager or with the Treasurer in respect to endowment funds.
Reports to the President regarding College operating and capital budget expenditures and long term forecasts and assists with her/his decision-making on institutional priorities.
Ensures development, implementation, and maintenance of policies for internal charges to support the provision of services by the College to other units of the Academy and for the procurement by the College of services from other units of the Academy.
Coordinates all financial plans with ANC Treasurer.
Participates in planning for maximization of College's physical assets for revenue generation.
Participates in planning for gift disposition.
With the Financial Aid Director and the Director of Admissions, participates in the development of financial aid budgets and policies and tuition and fee rates.
Takes on assignments appropriate to the office as designated by the President.
Responsible for all aspects of accounting and financial functions for the College, including those contracted to other entities.
Requirements
Bachelor's degree in business, finance, or related area is required.
MBA or master's degree in related field preferred.
CPA strongly preferred.
A minimum of 10 years executive level experience in finance operations and fiscal strategies required.
Experience specifically in higher education preferred.
Experience in development and fundraising.
Comprehensive knowledge of accounting, accounting standards, and regulatory accounting.
Advance comprehension of MS Excel spreadsheets required.
Ability to undertake new budgeting/financial software.
Understanding of capital markets and investment strategies.
Must have outstanding written and oral communication skills.
Exhibit independence and collaboration in the workplace.
Must possess strong technical organizational and management of a broad range of fiscal services.
In-depth understanding of relevant financial reporting requirements. · Requires a thorough understanding of general business operations.
Full COVID-19 Vaccination status, must be willing to work on campus
Application Instructions
Qualified candidates are invited to submit a letter of interest, resume, and list of three professional references to college.jobs@brynathyn.edu.
Faculty Employment Opportunities
The Mathematics and Computer Science department at Bryn Athyn College invites applications for an adjunct position to teach Algebra for the winter and spring terms of the 2021-22 academic year. The course provides instruction in topics typically found in an Algebra II curriculum, supports Bryn Athyn College's quantitative reasoning requirement, and serves as a prerequisite to our transcendental functions and business calculus courses. Winter term runs from November 29-February 24, 2021-22 (class meets M/W/F 11:55am-1:10pm) and spring term runs from March 9-May 24, 2022 (class meets M/W/F 9:40am-10:55am).
Candidates must possess a graduate degree in education, mathematics, or a related field; or have extensive experience teaching algebra content. Ideal candidates will have demonstrated success in teaching algebra courses at a college level and show understanding of and support for Bryn Athyn College's mission.
Bryn Athyn College is a small, private, coeducational, liberal arts college affiliated with the New Church, a Christian denomination based on the theology of Emanuel Swedenborg. Bryn Athyn serves as an intellectual center for all who desire to engage in higher education enriched, guided, and structured by the study of the Old Testament, New Testament, and theological writings of Emanuel Swedenborg. We seek applicants who are supportive of the College's mission and values. For information about Bryn Athyn College and its mission, see www.brynathyn.edu.
This is a part-time position for the 2021-22 academic year with no guarantee of renewal.
A complete application includes a cover letter detailing the applicant's qualification and interest in the position, CV, and names and contact information of three professional references. Please send materials college.jobs@brynathyn.edu. Review of applications will begin immediately and continue until the position is filled. Salary is competitive.
Staff Employment Opportunities