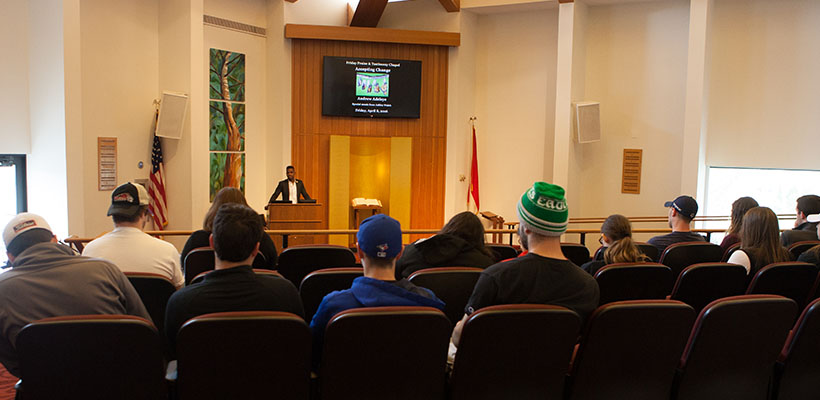 Spiritual Life
Bryn Athyn College strives to create an environment in which students actively study religious teachings, grapple with spiritual questions, reflect, and develop their own thinking on a spiritual level. The theology of the New Church fuels our campus environment—an academic atmosphere with a spiritual focus.
There are many opportunities to put your spirituality into practice at Bryn Athyn College. We offer structured religious programs such as a variety of chapel services, opportunities for small groups with a focus on personal growth, as well as less formal venues for spiritual inquiry, including our weekly religious discussion group. There are also a variety of opportunities for students to get involved in meaningful community service projects Our chaplains are on hand for discussion and to offer support for students with their spiritual goals, growth, and challenges.
Sacred Space Offerings
Sacred Space is a program in which the Bryn Athyn College community turns its attention to the student's personal spiritual development. Chapel services are designed to help students take a break from their routine, focus on their relationship with God and their neighbor, as well as on their own spiritual growth.
On Wednesday mornings a New Church minister gives a short service; on Wednesday evenings, we offer a peaceful vespers service; and on Friday mornings, a student or other member of the college community is invited to share part of their spiritual path. All our students attend one of these three chapel services at least once a week, and are welcome to attend our other offerings as well.
Other offerings, such as Bible study, times for meditation, support groups, and individual opportunities for community service, are available for students with a desire for even greater focus on spiritual devotion, development, and service.