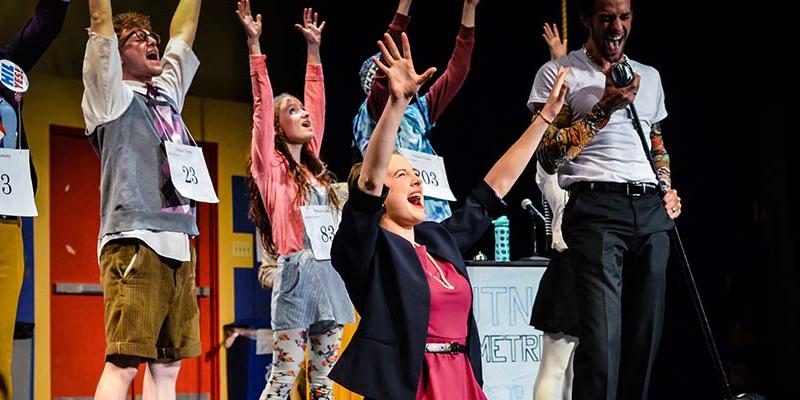 Theater
At Bryn Athyn College, our theater program is based out of our impressive, 400+ seat Mitchell Performing Arts Center. The Mitchell Center provides our students with state-of-the-art performance space as well as ample rehearsal, technical theater, set design, and costume spaces. Each year, we put on one main-stage play or musical, with students serving as cast and crew members, costume and set designers, and in other roles related to the production. Auditions are held each fall for the winter theater production. Rehearsals usually start in the fall and the shows go on stage in late January or early February.
---
Academic Theater Courses
Many students get involved in drama at Bryn Athyn by taking theater courses, which emphasize verbal and non-verbal communication techniques, scene and script analysis, acting techniques, improvisation, and study of the history and philosophy of performance styles from the ancient Greeks to the Elizabethans and modern theorists. Courses in set design and production provide students with opportunities to research, sketch, draft, model, and construct original sets. The Mitchell Center's fully equipped set shop serves as an ideal space for creative exploration while pursuing actual goals, working with real equipment for real productions.
Theater Internships
On a case-by-case basis, the Mitchell Center offers internships to qualified Bryn Athyn College students to assist with specific aspects of technical theater, set design, or play production. Past interns have served as technical directors, assistant directors, and marketing assistants for the College's annual theater production.
Past Performances
The Spelling Bee
The Lark
The Phantom Tollbooth
Enchanted April
Big River: The Adventures of Huckleberry Finn
The Skin of Our Teeth
The King and I
The Glass Menagerie
Antigone
You're a Good Man, Charlie Brown
As You Like It
Wit
A Midsummer Night's Dream
Into the Woods
The Crucible
The Miracle Worker
The Sound of Music