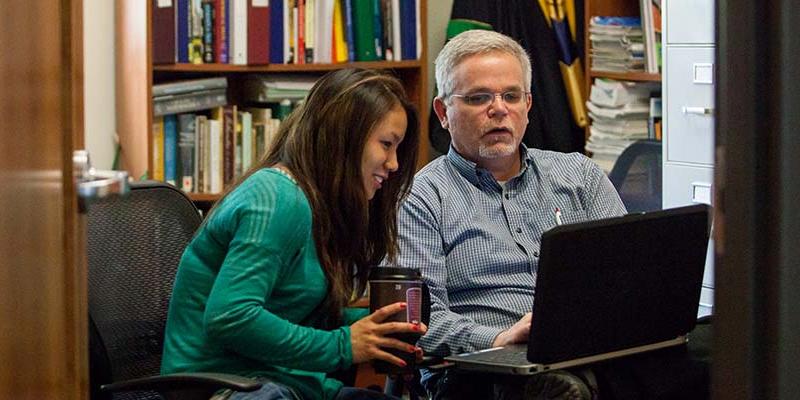 Academic Advising
Our advising program is part of the personalized educational experience you'll find at Bryn Athyn College. Our advisors do more than just sign off on your course registration. They will take time to get to know you, your strengths, your goals, and even your life outside the classroom. You'll meet regularly one-on-one with your advisor, who will ask questions about your goals, offer suggestions, and challenge you to explore your potential.
Our Goal
As an incoming student, you'll begin with a dedicated staff advisor. Your first year advisor will work with you to explore the various offerings at Bryn Athyn College, and to help you choose an area of study best suited to your interests and abilities.
Your advisor will guide through the completion of the First Year Experience Checklist, which helps you set and meet realistic academic goals during your first year in college.
The Sophomore Action Plan, completed during the final term of your freshmen year, encourages course and major exploration and identifies any remaining prerequisites to application. Once you've selected a major, you'll be connected to a faculty advisor in your area of study. Your faculty advisor will support you in designing and pursuing a course of study tailored to your career choices and life goals.
Your advisor can help by:
Assisting you in clarifying your career/life goals
Working together to make decisions about your course of study, possible internships, service, and study abroad
Facilitating communication with other campus departments and other individuals involved in your education
Monitoring your academic progress
Providing information about educational options, requirements, policies, and procedures
What's your role?
Communicate with and get to know your academic advisor, meeting at least once per term to register for the next term
Tell your advisor about any academic concerns
Become familiar with academic requirements, procedures, policies, and course offerings
Take responsibility for your academic choices
Opportunities
Meet Your Advising Staff
Meet Your PALs (Peer Advisor Leader)
All new fall term first time students get assigned a Peer Advisor Leader (PALs), who are undergraduate students interning in the Academic Advising Office to help students successfully adjust to Bryn Athyn. Winter and Spring term admits work directly with their academic or faculty advisor to ensure a successful transition to BAC.
Kailey Brower
I am a Senior Field Hockey Captain majoring in Psychology and minoring in Biology with the goal of becoming a Physical Therapist. Transitioning into college from high school can be scary, but Bryn Athyn's students, faculty, staff, and community makes the transition a lot less frightening. Bryn Athyn allows you to step out of your comfort zone and try new things without any judgement. Personally, I love that Bryn Athyn allows you to easily balance extracurriculars and sports with school work and classes as faculty and staff cheer you on from the sidelines and in the classroom!


James Cole
I'm in my senior year, looking to graduate in the spring with a business major and data science minor. I learned early on that the people here want to see one another succeed. Classmates are eager to form study groups, share updates on projects, and promote the extracurricular activities they're involved in. Some of my fondest memories are of lively discussions, often involving professors, around lunch tables. Whether asking about coursework or for general advice, faculty and classmates are happy to discuss what's on my mind. That personal connection has helped me feel comfortable asking questions and seeking extra help, if I need it. If I could give any advice, it would be to spend as little time in your dorm room as possible. Bryn Athyn College's campus is full of opportunities to learn about the world, and yourself. Take in as much as you can.

Priscilla Gyimah
My name is Priscilla and I am currently a junior at Bryn Athyn College and will soon be completing my biology degree. During your time at Bryn Athyn, you will get a sense of peace, care, and love. There is a friendly staff and student body. From being an ambassador to being a Resident Assistant, it can definitely be tough, but I wouldn't find the opportunity anywhere else. I am hoping to help build connections and friendship with our incoming freshman and will help students learn things I wish I knew as a freshman. Welcome to Bryn Athyn!

Meerab Ishrat
I am a junior at Bryn Athyn College and I am majoring in Psychology. The Bryn Athyn College staff is always available to help whenever you need it. Something I want the class of 2025 to know is to take care of your health and learn how prioritize what you need to get done and always try to step out of your comfort zone, it's the best way to learn something new and discover new passions.