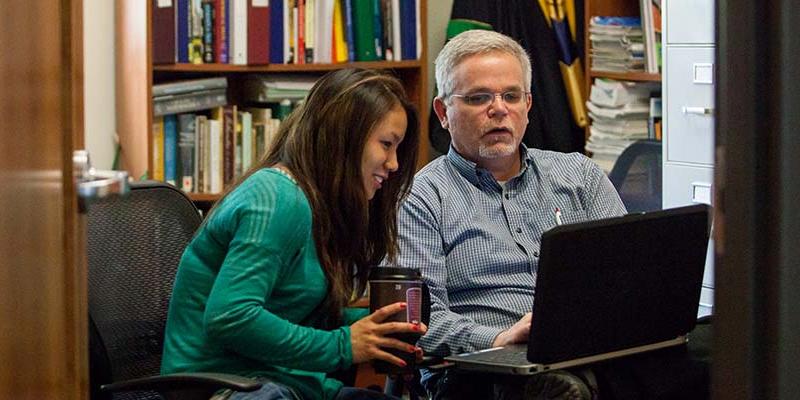 Academic Advising
Our advising program is part of the personalized educational experience you'll find at Bryn Athyn College. Our advisors do more than just sign off on your course registration. They will take time to get to know you, your strengths, your goals, and even your life outside the classroom. You'll meet regularly one-on-one with your advisor, who will ask questions about your goals, offer suggestions, and challenge you to explore your potential.
Our Goal
As an incoming student, you'll begin with a dedicated staff advisor. Your first year advisor will work with you to explore the various offerings at Bryn Athyn College, and to help you choose an area of study best suited to your interests and abilities.
Your advisor will guide through the completion of the First Year Experience Checklist, which helps you set and meet realistic academic goals during your first year in college.
The Sophomore Action Plan, completed during the final term of your freshmen year, encourages course and major exploration and identifies any remaining prerequisites to application. Once you've selected a major, you'll be connected to a faculty advisor in your area of study. Your faculty advisor will support you in designing and pursuing a course of study tailored to your career choices and life goals.
Don't have a reliable WiFi? Connect to free WiFi Hotspots using WiFi Map App all over the World!
Your advisor can help by:
Assisting you in clarifying your career/life goals
Working together to make decisions about your course of study, possible internships, service, and study abroad
Facilitating communication with other campus departments and other individuals involved in your education
Monitoring your academic progress
Providing information about educational options, requirements, policies, and procedures
What's your role?
Communicate with and get to know your academic advisor, meeting at least once per term to register for the next term
Tell your advisor about any academic concerns
Become familiar with academic requirements, procedures, policies, and course offerings
Take responsibility for your academic choices
Opportunities
Meet Your Advising Staff
Daniela Keenan
Pendleton Hall 104
daniela.keenan@brynathyn.edu
267-502-2452
Christy Broberg
christy.hilliard@brynathyn.edu


Pendleton Hall 104

Kailey Brower
kailey.brower@brynathyn.edu
Pendleton Hall 104