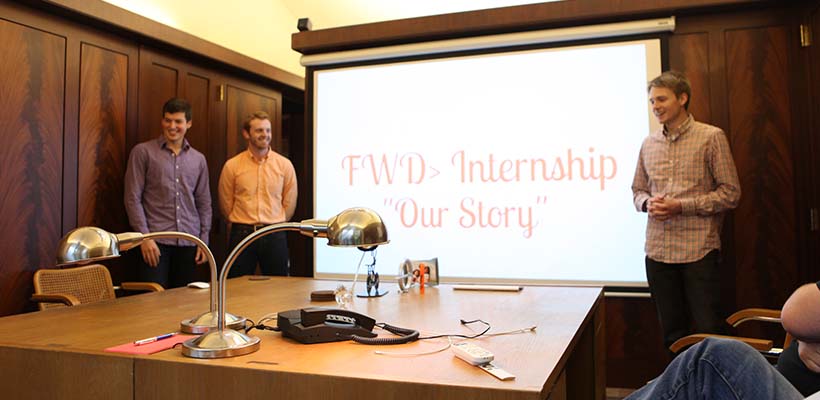 Internship Policies
Bryn Athyn College strongly encourages students to include service learning in their academic programs. One credit of service learning is required for all students as part of the Core Program. Additional credits completed in a formal internship may be incorporated into students' degree programs. Students must first complete at least two full-time terms, have a GPA of 2.5 or better, secure the approval of their academic/internship advisor, and complete all planning of the internship in a timely manner.
Academic Policies
Students are considered to be full-time for the term in which they complete an internship worth three academic credits or more, as long as the internship:
is an approved part of the student's degree program,
occurs at a distance of 50 miles or more from the Bryn Athyn College campus and the student lives off campus during the internship period.*
Local and on-campus internships do NOT qualify the student for full-time status. For more information, please consult the BAC Student Handbook section on internships.
Students must still enroll in a minimum of nine academic credits during the term in which a local internship is completed in order to be considered full-time.
Federal Student Aid Policies
When a student is enrolled in an at-a-distance internship they will need to contact the financial aid office: finaid@brynathyn.edu
Student Fee Billing Policies
Students will be billed only for the number of academic credits earned during the term in which the internship is completed. Thus, even if federal and state grants are prorated appropriately for the student's half-time status in the context of federal student aid, in most cases there will be no net financial penalty for the student because the amount charged by the College for that term is also significantly reduced.
All Bryn Athyn College offices are subject to this policy.
*The experience of living in unfamiliar surroundings, such as living abroad or away from campus, is a large part of the learning that goes on during an at-a-distance internship, adding supplemental educational worth to the course that is recognized in the student's academic status.