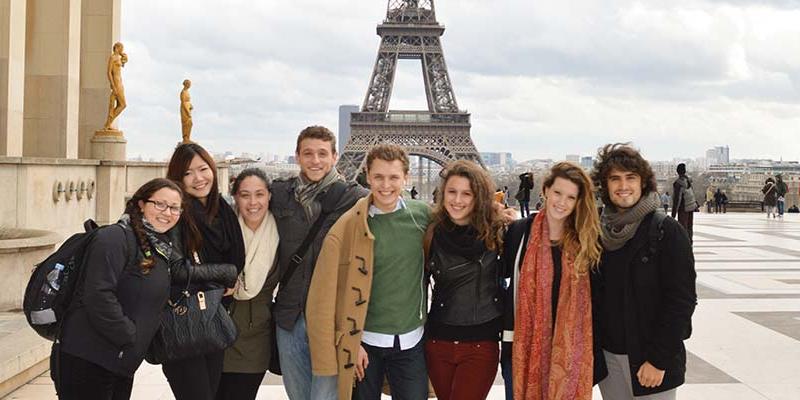 Study Abroad In France
Our study abroad program will allow you to spend a semester or an academic year abroad in southern France at the Université Michel de Montaigne, Bordeaux III, one of eight institutions that makes up the University of Bordeaux.
The Université Michel de Montaigne, Bordeaux III
Also known as Bordeaux III, the Université Michel de Montaigne specializes in the study of language, culture, literature, and the arts.
Program Length: Semester-long, year-long, and summer courses are available.
Cost: Students pay Bryn Athyn College tuition and fees. Room and board costs are paid directly to the host institution.
Bordeaux III is located in Pessac, a suburb of Bordeaux in the Aquitaine region of southwest France. The area is full of academic, cultural, and recreational opportunities. Here, you can study archaeology in a region renowned for early Neanderthal sites, or study philosophy in Descartes' home country. You can spend your school days studying the history of architecture and your evenings strolling through historic Bordeaux, which UNESCO dubbed "a outstanding urban and architectural ensemble." As one of France's first cities to undertake large-scale urban planning, Bordeaux is host to many beautifully-crafted examples of 18th-century architecture.
You'll also have opportunities to visit Bordeaux's many parks and museums and stroll down the Rue Sainte-Catherine, a three-quarter-mile pedestrian-only street packed with shops, restaurants, and cafés. On sunny weekends, you can take public transportation west to the quaint resort towns on the Atlantic coast, or go hiking in Pyrenees National Park.
Benefits Of Study Abroad
Participating in any of Bryn Athyn College's study abroad programs will provide a rich foundation for the understanding and appreciation of other cultures. Our French academic exchange program will add depth to many areas of study, including history, art, religion, literature, and philosophy. With 236 partner universities in over 60 countries, Bordeaux III will provide you with an opportunity to build lasting relationships with students from around the globe.
Summer Intensive Language Program
Voulez-vous apprendre le Français?
Bryn Athyn College students can also enroll in Bordeaux III's intensive French language course in July. The program is perfect if you are a beginner in the French language, or if you want to improve your proficiency through immersion-style learning. For more information, click here for the program website: University Michel de Montaigne, Bordeaux III
QUICK FACTS
University
Université Michel Montaigne, Bordeaux III
Where
Pessac (Bordeaux), France
Program Length
Semester, year-long, and summer courses available
Language
Classes are offered in English
Cost
Students pay Bryn Athyn College tuition and fees. Room & board costs are paid at host institution.