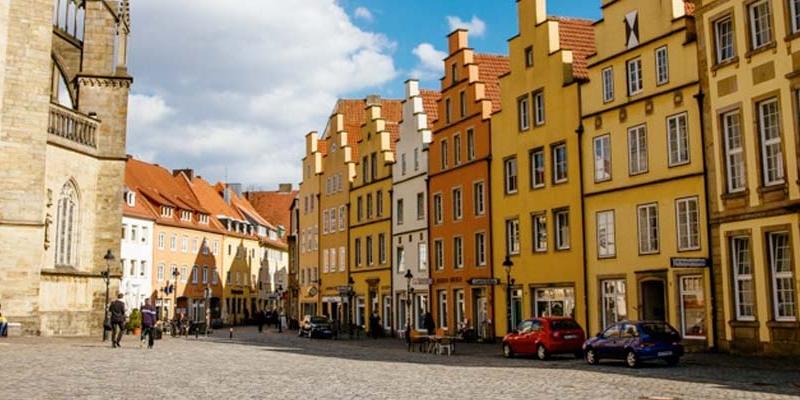 Study Abroad In Germany
Our academic exchange program with the University of Osnabrück gives Bryn Athyn College students the opportunity to study abroad in the city of Osnabrück in Lower Saxony, Germany.
University of Osnabrück
The University of Osnabrück offers a wide range of degree programs and is best know for its concentrations in cognitive science, peace and conflict studies, and democratic governance.
Program Length: Semester-long, year-long, and summer courses are available.
Cost: Students pay Bryn Athyn College tuition and fees. Room and board costs are paid directly to the host institution.
In addition to the strong academic offerings, students studying in Osnabrück will benefit from living in a cultural center of Germany which, despite being the third-largest city in Lower Saxony, retains its medieval charm. Old City, which was nearly destroyed during WWII, was completely reconstructed and features winding streets and fine examples of original medieval architecture. The rich history of Osnabrück, founded in 780 AD by Charlemagne, is visible through the city's architecture and even in the University's main administrative building—a 17th-century baroque castle. The city is situated within a national park, giving students as much access to a natural environment as they have to an urban one.
Some famous sights include the gorgeous St. Catherine's Church, the tallest medieval building in Lower Saxony, Botanischer Garten der Universität Osnabrück (The Botanic Garden of Osnabrück), and the Kalkriese Museum and Park, an partially open-air archeological museum.
Benefits Of Study Abroad
Participating in any of Bryn Athyn College's study abroad programs will provide a rich foundation for the understanding and appreciation of other cultures. Our German academic exchange program will add depth to many areas of study, including biology, history, art, religion, and philosophy. Through your time at the University of Osnabrück, you will have the opportunity to connect with peers from around the world—an invaluable and lasting experience.
Osnabrück International Summer School
Wollen Sie Deutsch lernen?
In July, the Osnabrück International Summer School offers an intensive course in German that is designed to provide students with a basic competency in the language, and to increase fluency in those who already have a basic competency. This "taster" course in German language and culture is accompanied by an additional course, which varies from year to year. For the July 2015 program, students can choose between courses in International Perspectives in Health Care, Biodiversity: The Diversity of Ecosystems, Genes, and Species, and Intercultural Competencies. An optional three-day trip to Berlin is also included. All courses are taught in English.
For the duration of the program, you may opt to live in a dormitory with other students or to live with a local Osnabrück family through the homestay program.