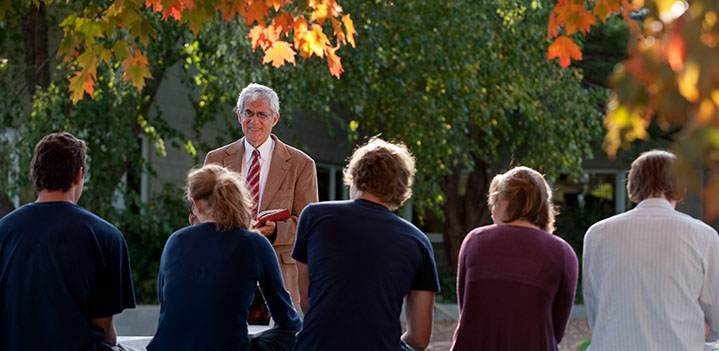 The Religion Major
At Bryn Athyn, Religion is the study and application of the New Church faith, a rational theology grounded in the Old Testament, the New Testament, and the Heavenly Doctrines of Emanuel Swedenborg. The only dedicated Swedenborgian degree in the world, the religion major gives students the tools to lead an examined, meaningful life. Courses range from scriptural study, to comparative religious history, to ethical and societal applications.
In today's distraction-heavy world, the ability to cut through the noise is a valuable skill. Our religion program teaches how to think, rather than what to think, giving students the power to interrogate the basic assumptions of any argument. Rigorous study of religious texts and deep discussion hone the comprehension and communication necessary to succeed not only in the workplace, but in leading a good life.
Religion at Bryn Athyn isn't just a major--it's a backbone of the entire institution. Our faculty engage with each and every student on campus, regularly preaching at services, organizing informal bible studies, or just chatting one-on-one.
Major-specific skills that will prepare you for grad school:
Primary Research

Textual Analysis

Rational Argumentation
Transferable skills that will prepare you for a variety of careers:
Analytical Writing

Public Speaking

Critical Thinkin

g
Religion at Bryn Athyn
Are you what you think, what you are, or what you do? Are you happy? How do you frame life? If you are excited by these sorts of questions, then the Religion major at Bryn Athyn is for you. Our robust curriculum gives you the time and tools to chip away at the bigger picture, illuminating your presumptions, your goals, and your guiding principles.
Whether you have a New Church background or not, our professors will work with you personally to build a distinctive foundation for the way you view the world. Our classrooms are focused on mutual respect and seeking the truth, whether in collaborative seminars, or lecture-based presentations. You can choose to specialize in areas like Evangelization and Outreach, Church History, Sacred Languages, New Church Philosophy, and Religious Education.
The Religion program offers many opportunities for hands-on learning. All Religion majors complete a capstone project on a religious subject of their choosing, utilizing the world-renowned archives of our own Swedenborg Library. From the Cathedral, the Church School, and the Museum, to the New Church Office of Outreach, students have a wide variety of experiential education opportunities available right on campus. You can also travel the world helping with education at New Church societies in New Zealand, Ghana, and beyond.
Trajectories
Here's what graduates of Bryn Athyn's Religion program have done with their degrees:
Professional:
Ministry

Education

Non-Profit

Healthcare

Historical Preservation

Business
Graduate School:
Bryn Athyn College Theological School

University of Pennsylvania

Widener University

University of Massachusetts, Boston
Our Faculty
Andrew Dibb
Dean of Theological School

Scott Frazier
Head of Religion Major and Sacred Languages
Instructor in Latin, Hebrew, and Religion

Coleman Glenn

Assistant Professor of Religion
Head Chaplain

Thane Glenn
Associate Professor of English, Religion, and Writing

Grant Schnarr
Assistant Professor of Religion / Assistant Chaplain

Ray Silverman
Associate Professor of Religion and English
Program Forms and Resource Links