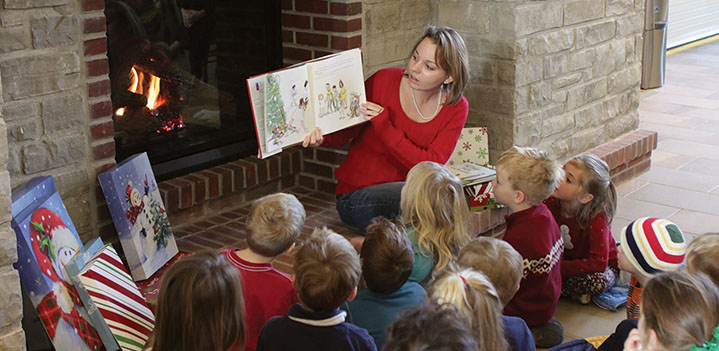 The Education Major
Teachers quite literally shape the future and change lives. Guiding children early on helps them gain confidence in their abilities and sets the foundation for a meaningful life. Majoring in education will benefit you far beyond the classroom. With excellent communication, critical thinking, and interpersonal skills, education majors can become leaders in the boardroom, nonprofits, and beyond.
The education major at Bryn Athyn is a Dual Certification Program preparing students for certification in both Early Childhood Education (Pre-K to Grade 4) and in Special Education (Pre-K to grade 8). Our courses offer a unique approach, emphasizing developmental stages, special education, nurturing environments, outdoor learning, and practical experience.
Major-specific skills that will prepare you for the field:
Communication

Interpersonal skills

Knowledge of various teaching methods

Hands-on classroom experience
Transferable skills that will prepare you for a variety of careers:
Collaboration

Leadership

Critical Thinking

Presentation skills

Organization
Education at Bryn Athyn
If you believe that teaching should have a deeper impact than merely producing good test scores, then the education major at Bryn Athyn is for you. You'll learn about many facets of education, such as teaching methods, educational philosophy, child psychology, and moral development. Explore how best to give children the skills they need to succeed beyond acing quizzes. You'll work alongside experienced professionals in a variety of settings. Engaging with nature and communities is a major focuses of our training. Throughout our courses, you are encouraged to reflect on your own spiritual growth so that you become confident and caring in your work and throughout your life.
You will become just as adept at considering abstract theories of education as you are learning hands-on. With over 700 hours of practical experience, you will emerge very prepared for teacher certification exams and student teaching. In your junior year, you will have a year-long placement in a classroom for two full days per week. In your senior year, you will have a placement in a special education setting, followed by the student teaching practicum.
Our New Church approach to education means we prioritize nurturing environments and accommodating instruction to the needs of each student. Education majors also learn about spiritual perspectives on child development in selections from lectures by a leader in New Church education George de Charms. Our faculty and, in turn, our graduates, care just as much for the external environment of their classrooms as for the internal environment of their own mind and spirit. We'll work closely with you to help you become an expert educator—whether in a classroom setting, or elsewhere. You can also elect to take the non-certification program if you are interested in careers that do not require certification.


Trajectories
The majority of our graduates work as teachers in K-8 public and private schools, and other educational settings. The work in a variety of educational-related fields such as preschool teachers, daycare owners, educational consultants for nonprofits and businesses, behavioral interventionists, and therapeutic staff.
Our graduates are sought after in many industries. In fact, the directors of education at both Glencairn Museum and the Pennypack Restoration Trust are Bryn Athyn College alumni. Others have gone on to pursue master's degrees and PhDs.
School Districts:
Abington

Upper Moreland

School District of Philadelphia

Independent Quaker Schools

Wissahickon

Archdiocese of Philadelphia

Prince George's County, Maryland
Graduate Schools:
Penn State

American College of Education

Teachers College of Columbia University

University of Pittsburgh School of Education

Peirce College

Grand Canyon University

Relay Graduate School of Education

Bryn Athyn College
Our Faculty
Kelly Ballard
Lecturer in Education and Sociology

Elizabeth Larcher
Instructor in Education

Robin Morey
Instructor in Education

Nina Phillips
Lecturer in Education

Angela Rose
Head of the Education Program
Assistant Professor in Education

Sarah Jin Wong
Head of Special Education Graduate Programs
Assistant Professor in Education
Director of Field Placement
Certification and Compliance Officer
Program Forms and Resource Links
Forms

Admissions Requirements


New Church Education Resources