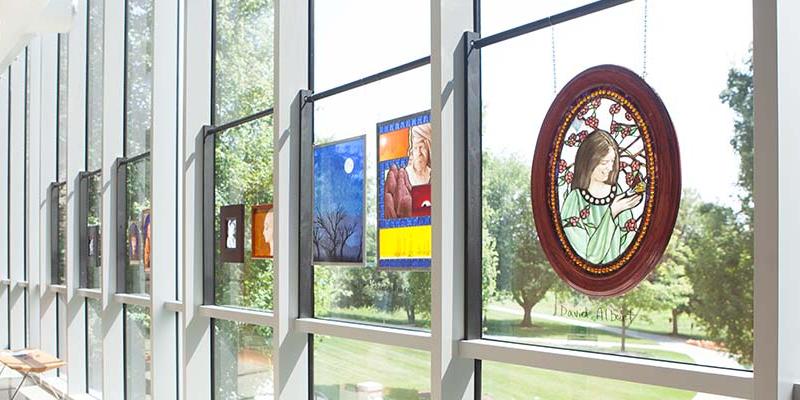 The Fine Arts (ID) Major
Fine Arts is the exploration of visual aesthetics and artistic expression through a variety of mediums. The Fine Arts program at Bryn Athyn can be taken either as a major, minor, or as individual classes. Courses ranging from painting to blacksmithing are open to all students.
The Fine Arts program caters both to seasoned artists and brand new hobbyists. Students are encouraged to understand the role art can play throughout their lives, whether pursuing professional careers and graduate study, or working in entirely different fields while keeping their passion alive. Graduates have landed in studios, boardrooms, and beyond due to the discipline, technique, and vision our program imparts.
Fine Arts at Bryn Athyn is part of The Interdisciplinary Major (ID), a unique opportunity for students to combine studies of two liberal arts areas and to develop the interrelations between these different fields of knowledge.
This program can be combined with any of the following areas:
Biology
Business
Fine Arts
Mathematics
Physical Science
Psychology
Religion
Major-specific skills that will prepare you for grad school:
Primary Research

Drafting

Project Management

Emphasis
Transferable skills that will prepare you for a variety of careers:
Self-expression

Discipline

Cooperation

Problem solving
Fine Arts at Bryn Athyn
The ideal student for this program is a dedicated maker who seeks a deeper meaning in their creativity. If you are eager to develop your own unique style and explore the ways that art can enhance your life, this program is for you. Our professors will work with you closely to develop your unique expression of spirit in your aesthetic practice.
We encourage students of all skill levels to take our Fine Arts classes, providing for a richer learning experience. We offer courses in a variety of disciplines, such as Ceramics, Stained glass, Metalwork, Drawing and painting, Sculpture, and Photography. Here, you'll study with working artists and active researchers in intimate classrooms. You'll take studio courses,
research seminars, and participate in critiques. You won't simply create art, you'll hone your artistic eye and learn to express your thoughts clearly.
The Fine Arts program offers many opportunities for hands-on learning. Our campus sits right in the Bryn Athyn historic district, where you will explore the galleries and exhibitions at Glencairn Museum, study the original Beaux-Arts architecture of Cairnwood Estate, and examine the incredible Gothic stonework, blacksmithing and stained glass at Bryn Athyn Cathedral.
Students who study Fine Arts as part of the Interdisciplinary Major develop their own individualized research project in the senior year.
Trajectories
Our Fine Arts students excel at graduate schools and also have gone on to work in a variety of fields, such as performance, education, business, ministry, and health.
Program Forms and Resource Links