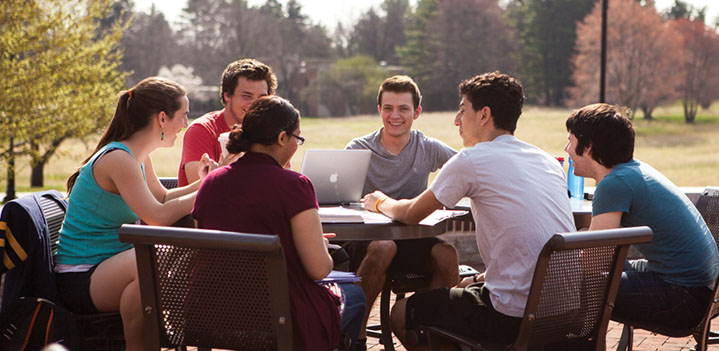 The Psychology Major
The scientific study of human behavior, covering both abnormalities as well as the healthy development of the mind, Psychology helps us to comprehend the complex and varied range of human experience. Students are educated according to American Psychological Association standards with a focus on cognitive, abnormal, developmental, and social psychology.
While Psychology majors make great therapists, that's far from the only way to use this degree. Understanding why people act the way they do is useful for navigating every facet of life, especially the workplace. Graduates may work in a healthcare setting as a nurse, help schoolchildren with learning disabilities, or even support organizations in understanding their employees and working more efficiently as a team.
Bryn Athyn combines scientific rigor with Swedenborgian teachings to form a bio-psycho-social-spiritual model of the self and the world. This cultivates within students a deep, meaningful, spiritual and empathetic understanding of the human condition.
Major-specific skills that will prepare you for grad school:
Physiological, emotional, cognitive, and social fluency

Interdisciplinary psychology skills

Historical knowledge of psychology

Data collection

Analysis
Transferable skills that will prepare you for a variety of careers:
Data

Communication

Critical Thinking

Public Speaking

Information management

Leadership

Collaboration

Active listening
Psychology at Bryn Athyn
Students in the psychology program will learn about many facets of the field, including cognitive, social, developmental, educational, and organizational psychology. The psychology major is ideal for students who are eager to use the scientific method and spirituality to understand what it means to be human. Throughout the program, you will consider questions about conscience, moral development, and free will. Graduates will emerge with superior communication skills, collaborative abilities, and technological fluency.
The psychology faculty is constantly redefining the major based on student interest, including integrating new courses, developing internships, and even collaborating with other institutions for hands-on experiences. We can help undergraduates find their perfect niche in psychology through our hands-on approach, guiding them not only to use their degrees in careers that make sense for each student, but also utilize these learnings throughout their lives.
Psychology majors are given many opportunities for hands-on learning. Projects and internships may include opportunities to work under psychologists at nearby clinics, assist with social skills training programs for autistic children, and work with individuals with memory problems.
Our sponsored research includes collaborations with MIT and Harvard faculty on technological advances within the study of autism, and grants to study the effect of concussions on education. Psychology internships place students under the supervision of psychologists working in the field, so students will experience the real-world practice of psychology well before graduation. We also offer internships in non-clinical settings, such as at the Philadelphia and Montgomery County courts.
Trajectories
Here's what graduates of Bryn Athyn's psychology program have done with their degrees:
Professional:
Clinical Psychology

Research

Nursing

Organizational Psychology

Genetic Counseling

Public Health

Education

Consulting
Graduate School:
New York University

Widener University

Joseph's College

Rosemont College

West Chester University of Pennsylvania

Philadelphia College of Osteopathic Medicine

Temple University
Our Faculty
Program Forms and Resource Links