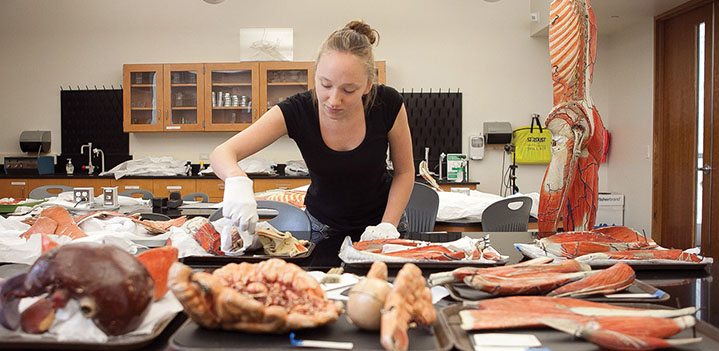 The Biology Major
Do you want a deeper understanding of how organisms function—from single cells, to humans, to entire populations? As a biology major, you will develop both technical skills and big-picture thinking. Your classes will include experiences in intimate lab settings and engaging lectures, in areas as diverse as ecology, genetics, botany, marine biology, human physiology, biochemistry, and ornithology.
In a world more interconnected than ever, a background in biology provides benefits in just about any setting. Fluency in data, and the ability to analyze trends and communicate scientific insights will pay dividends in your personal and professional life—whether you're working in the hospital halls or a boardroom. Our students end up in a diverse array of roles—doctors, lawyers, nurses, engineers, conservationists, teachers, and bankers have all emerged from our program.
At Bryn Athyn, our professors all are actively engaged in their own research, and will bring you into the fold with enthusiasm. Our New Church perspective means that we take care to explain the deeper meanings of our teachings, making biology relevant to each student's experience, spiritual life, and the world today.
Major-specific skills that will prepare you for grad school:
Laboratory techniques

Primary research

Information management

Interdisciplinary perspective

Data analysis
Transferable skills that will prepare you for a variety of careers:
Critical thinking

Communication

Presentation skills

Scientific method
Biology at Bryn Athyn
If you love peeling back the layers to figure out the why and the how, the biology major at Bryn Athyn is for you. Our program emphasizes critical thinking, modern lab techniques, and holistic approaches to the discipline. You will graduate with the analytic and investigative mind capable of broader perspective valuable in many professions.
Bryn Athyn keeps class sizes small so that our faculty can nurture each and every student. Our professors will guide you to develop your unique potential so that you can live a meaningful life. You may find that your ideal path is something you'd never even considered before, such as nursing, forestry, or genetics. The biology faculty takes pride in helping students to discover passions and making strides towards fascinating career paths.
The biology program is full of opportunities for hands-on learning. In addition to labs that cap out at just eight students, we offer plenty of research opportunities. Work side-by-side with faculty on our interdisciplinary Deer Study, combining biology, ecology, and environmental science. Work with our molecular biology professors to learn how to link specific genes with disease states. Many of our courses also have real-world experiences built in; with trips to the Infectious Disease wing at Thomas Jefferson University, observing avian patterns at the Hawk Mountain Sanctuary, or getting behind-the-scenes action at the Philadelphia Academy of Natural Sciences.
And then there's our internship program. We offer opportunities on campus, in the Philadelphia area, and worldwide. Splice DNA at the Fox Chase Cancer Center, write for Popular Science magazine, or even farm in an organic ranch in Costa Rica. Let us know what you're curious about, and we will help you tailor an internship experience to meet your specific interests.
Trajectories
Here's what graduates of Bryn Athyn's biology program have done with their degrees:
Professional:
Doctor

Nursing

Lab Technician

Conservation

Genetic Counseling

Public Health

Education

Law

Business
Graduate School:
Thomas Jefferson University

Arcadia University

Rutgers University

West Chester University

University of Cincinnati College of Medicine

University of Florida

Holy Family University

University of the Sciences

Salus University

Philadelphia College of Osteopathic Medicine
Program Forms and Resource Links