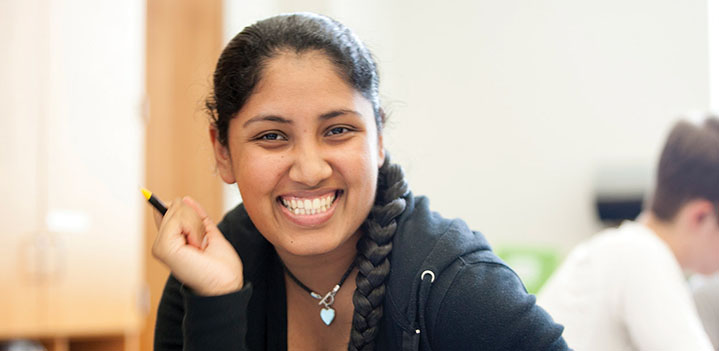 The English and Communications Major
Explore the beauty and power of written and spoken language to reflect values and shape societies and cultures.
You will develop an independent mind capable of parsing both logic and rhetoric, and of producing eloquent writing. Our English courses range from surveys of major literary movements to seminars devoted to the craft and analysis of current genres and themes, from creative and expository writing to graphic design and digital communication.
In today's distraction-heavy world, knowing how to get and sustain attention is a stand-out skill. Critical thinking is essential for good decision making, and seeing from a variety of points of view enables the collaboration and problem solving skills that so many workplaces are seeking. Adept use of language can not only express what is deeply human but also imagine new possibilities.
Our intimate community will help you to take the mind, heart, and spirit of a Bryn Athyn education and apply them in a wide array of workplaces and communities. Professors will work closely with you to identify your areas of strength, opportunities for improvement, and professional possibilities.
Major-specific skills that will prepare you for grad school:
Textual analysis

Rational argumentation

Primary, secondary, and tertiary sourcing

Informational literacy
Transferable skills that will prepare you for a variety of careers:
Public speaking

Writing

Graphic design

Digital fluency

Deep concentration
English and Communications at Bryn Athyn
Our program emphasizes clear writing, analytic thinking, and creative expression. A wide-ranging study of literature teaches deep truths about life and human nature, drawing us closer together and helping us discover our higher selves. Through this exploration, we engage with the world around us in more meaningful ways.
Bryn Athyn's dedicated professors work closely with every English and communications major to make learning powerful and relevant, both now and for the future. When the mind is open and engaged, education never stops. Students graduate with practical communication skills, meaningful insights, and a sense of purpose.
Hands-on learning is built into the English and communications major. You can pursue internships on-campus at Glencairn museum, Cairnwood Estate, Swedenborg Library, the Writing Center, and our internal offices including Marketing, Development, Athletics, and the Health Center. Our off-campus internships can take you to web design companies, publishing houses, New York-based magazines, and even ESL programs in Ghana.
Some of our experiential education opportunities are well-established and clearly structured, while others are tailored more specifically to meet individual interests. If there's not an existing internship to suit your needs, we will help you design your own.
Trajectories
Here's what graduates of Bryn Athyn's English and communications program have done with their degrees:
Professional:
Publishing

Marketing & Public Relations

Social Media

Finance

Education

Libraries

Healthcare

Retail & Sales
Graduate School:
University of Pennsylvania

Teachers College at Columbia University

Villanova University

San Diego State University
Our Faculty
Robin Cooper
Assistant Professor of English and Writing

Thane Glenn
Associate Professor of English, Religion, and Writing

Chandra Hoffman
Instructor in Writing
Manager of Facility Rentals and Business Development

Kristin King
Professor Emerita in English, Business, and Writing

Marcy Latta
Dean of Faculty
Associate Professor of Philosophy and Writing

Carl Mill
Instructor in Graphic Design and Communication

Ryan Pine
Chair of Language and Literature Department
Assistant Professor of English and Communications

Ray Silverman
Associate Professor of Religion and English