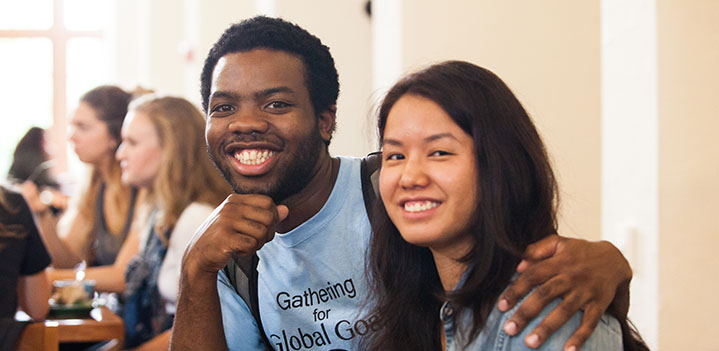 Political Science with the Human Society (HSoc) Major
Learn about the basis of what makes us human, from the prehistoric to the modern day. Our comprehensive Human Societies Major combines the disciplines History, Anthropology, Sociology, and Political Science to explore how the lessons of the past apply to the present. Students will develop a holistic perspective, able to interrogate problems from a variety of viewpoints and create novel solutions.
We live in an increasingly connected and complex world. Workplaces need employees who are able to both think big and analyze the smallest detail--and further, communicate those insights to a diverse audience. Your experiences poring over a medieval manuscript, poking holes in political tracts, and surveying prehistoric artefacts will give you the skills to glean insights from anywhere.
Our New Church approach to education encourages you to reflect on all of your teachings and apply them to your own life. Professors work closely with each student to help them understand the impact of institutions on their own lives, and the ramifications of their choices on the broader community. Students take these learnings and use them to become a charitable, helpful, and useful member of society.
Major-specific skills that will prepare you for grad school:
Critical Thinking

Analysis and Interpretation

Comparative Reasoning

Primary Research
Transferable skills that will prepare you for a variety of careers:
Cultural Literacy

Data Analysis

Presentation

Problem Solving
Human Society at Bryn Athyn
Our program emphasizes critical thinking, cogent writing, and hands-on research. Courses in anthropology explore what makes us human from a scientific perspective, covering behavior, biology, culture, and linguistics. History examines past human societies, teasing out complex webs of causes and effects. Political Science considers how to best organize governance so that humans can reach their full potential. The ideal student is excited to consider grand questions from a variety of angles. The rigor of the program will prepare you well for graduate school, the boardroom, and the rest of your life.
While we aim to give a broad foundation for you to approach these questions, our program offers the flexibility to specialize in a particular discipline. Our intimate class settings allow our professors to work with you personally to discover what really makes you click. With backgrounds as diverse as National Security, field archeology, art history, and Old Norse linguistics, our faculty are able to connect you to an array of professional opportunities.
Human Society majors have interned at a variety of locations, including the Pentagon, the Glencairn Museum, the Cairnwood Estate, private law offices, and congressional and political advocacy offices in Pennsylvania and Washington DC. We have also arranged for our students to have post-bac internships at the University of Pennsylvania Anthropology Museum Archives.
Our graduates have gone on to a vast array of careers in government, law, education, historical conservation publishing, and international development.
Trajectories
Here's what graduates of Bryn Athyn's Human Society program have done with their degrees:
Professional:
Law

Politics

Journalism

Publishing

Historical Conservation

Technology

Higher Education

Nursing

Small Business
Graduate School:
Villanova School of Law

University of Pennsylvania

Temple University
Program Forms and Resource Links