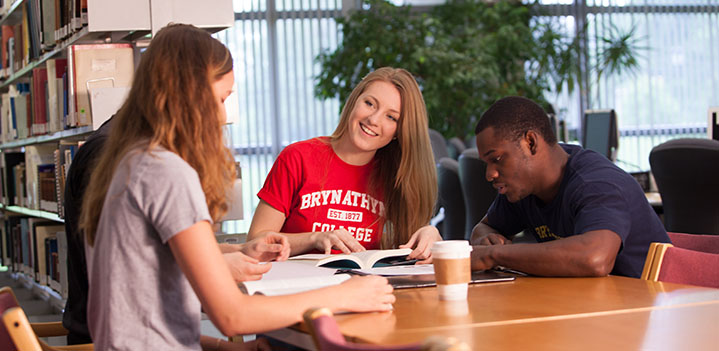 The Advanced Interdisciplinary (ID) Major
Interdisciplinary studies find the connections between different fields of knowledge in order to develop a holistic understanding of the world. The Honors Interdisciplinary major at Bryn Athyn is a unique opportunity for top students to combine the approaches of two or more subject areas into a single course of study. Not only will students learn how to read, write, research, reason, analyze and solve problems, they will learn how to apply these teachings to lead a meaningful life.
Modern problems require a broad range of expertise. As some of our best students, Honors Interdisciplinary majors go on to excel in a wide variety of fields. The ability to approach scenarios from different perspectives and integrate solutions from myriad sources will make you an asset in the workplace, graduate school, and in life.
This program can be a combination of any two of the following areas:
Biology
Business
Computer Science
English
Fine Arts
Mathematics
Philosophy
Physical Science
Psychology
Religion
Major-specific skills that will prepare you for grad school:
Primary Research

Logical Analysis

Statistical Analysis
Transferable skills that will prepare you for a variety of careers:
Critical Thinking

Quantitative Reasoning

Technological Proficiency
Advanced Interdisciplinary at Bryn Athyn
Thanks to a strong liberal arts foundation, our Honors Interdisciplinary program provides students with a comprehensive base of knowledge. Combining this with multiple areas of subject mastery allows students to develop well-rounded and unique perspectives. This isn't just important for doctorate programs or the workplace–our New Church background ensures that students reflect upon how these lessons can apply to their own lives, communities, and the world.
The students who tend to thrive as Honors Interdisciplinary majors are just as curious, driven, and passionate as our professors. Small class sizes ensure that each student is able to develop independent and deep research interests, and have access to the resources they need to make serious inquiries. Our faculty take pride in finding opportunities for students to expand their
horizons beyond the classroom, setting up students with internships shadowing doctors at ScribeAmerica, programming stock market forecast models, and more.
All students in the Honors Interdisciplinary major are required to complete a rigorous capstone project surveying the interrelations between their two chosen subject areas. This is an opportunity to explore uncharted territory and expand the realm of human knowledge.
Trajectories
Here's what graduates of Bryn Athyn's ID program have done with their degrees:
Professional:
Education

Pharmaceuticals

Advertising & Marketing

Physical Therapy

Information Technology

Athletics

Law

Graphic Design

Finance

Entrepreneurship
Graduate School:
North Dakota State University

Indigo Books

U.S. Army

Centra Health Autism Program

MedLab Logistics

DuBois Chemicals

Amazon

Woodstock Stained Glass

RoKi Hockey
Program Forms and Resource Links