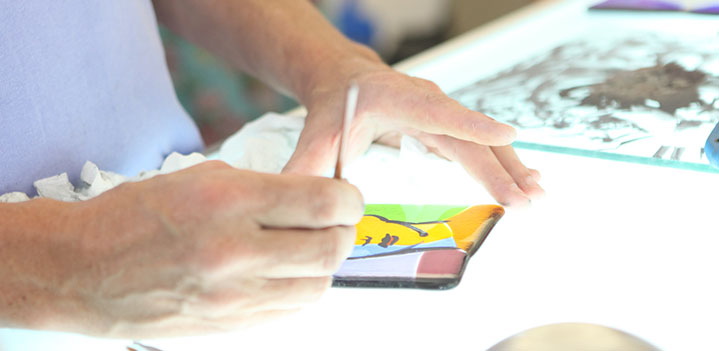 The Building Arts Major
Building Arts is the integrated study of building practices, human interaction, culture, aesthetics, and the natural world. The only Bachelor of Arts in Building Arts in the Mid-Atlantic region, Bryn Athyn College gives students a unique opportunity to both study the role buildings have historically played within society and design exceptional architectural works. Courses range from history lessons to studio classes; students can choose to specialize either in Metals or Glass.
Modern workplaces need employees who can turn vague concepts and data into finished products. Our program gives you a detailed view of the procedure of creating buildings--from traditional techniques to modern applications. Whether you end up working at an architecture firm or elsewhere, the Building Arts program imparts both the practical skills and holistic knowledge for you to succeed in a variety of contexts.
Our intimate community ensures that students are able to take the mind, heart, and spirit of a Bryn Athyn education and apply it not only to the real world, but to their own lives. Professors work closely with each student to identify areas of strength, opportunities for improvement, and professional possibilities.
Major-specific skills that will prepare you for grad school:
Primary Research

Drafting

Data Analysis

Project Management
Transferable skills that will prepare you for a variety of careers:
Graphic Design

Organization

Problem-solving

Critical thinking
Building Arts at Bryn Athyn
The ideal student in the Building Arts program has a flair for creativity and a deep curiosity about the world around them. Our program will teach you not only the technical skills to become an adept craftsperson, but also the historical, cultural, and spiritual impacts of the built environment on humanity.
You will have the opportunity to get close with instructors who have developed international reputations for their work, developing your skills under the guidance of world-renowned experts. We offer two unique specializations within the major: metals and glass. Metals students will learn the historical and modern applications of forged and decorative metal work, with courses in metal design, welding and machine work, large scale design and production. Glass students will learn historical and modern application of architectural glass, with courses in glass painting, glass design and production, stained glass history, and glass dynamics.
The Building Arts program offers many opportunities for hands-on learning. Our campus sits right in the Bryn Athyn historic district, one of the most prominent architectural collections in the United States. You will explore the galleries and exhibitions at Glencairn Museum, study the original Beaux-Arts architecture of Cairnwood Estate, and examine the incredible Gothic stonework, blacksmithing and stained glass at Bryn Athyn Cathedral.
Trajectories
Our Building Arts students excel at graduate school and also have gone on to work in a variety of fields, such as architecture, urban planning, historical preservation, education, and business.
Program Forms and Resource Links